Weintek E-News: Centralized User Account Management
June 4, 2023 / By Zunair Tahir / Automation News
---
The challenge of effectively managing access rights on the equipment is one that Ary, the production manager of a facility that processes food, must deal with.
Fortunately, Weintek's cMT X HMI, which supports two different external server types to enable centralized user account administration, makes his problem simple to resolve.
One kind of centralized user account management puts all user account information on an external server called an LDAP server. The HMI establishes a connection with the LDAP server to carry out login when a user registers in through an HMI.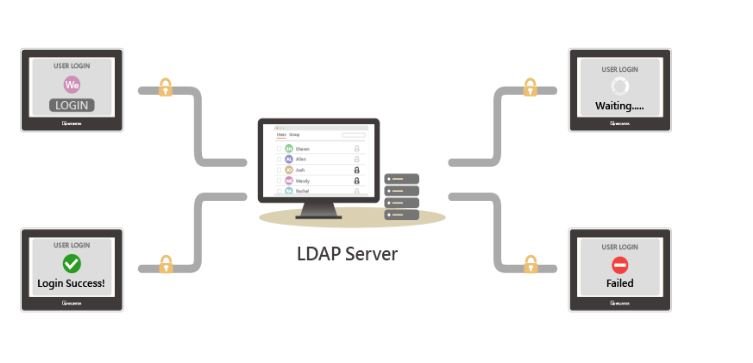 The main benefits of employing an LDAP server are its simple integration with existing LDAP servers and the ability to securely encrypt its connection.
The alternative employs a remote HMI. The middle HMI may be utilized as the external server that holds all user account data, as shown in the image below.
The HMI establishes a connection with the "HMI server" to handle user login when a user registers in from one of the other HMIs. The benefit of remote HMI is that just the HMI itself is required in terms of hardware and software. Additionally, HMI-HMI communication may be securely secured by encryption, much as LDAP.
These answers are precisely what Gary needs. Instead of managing user accounts on each HMI as is necessary with traditional user management, Gary just has to make updates to the user account data on the external server, and all affected devices will immediately display the changes. Centralised user account management will save time for personnel like Gary and make factory administration far more effective than it now is.
Eligible models: cMT X Series Standard and Advanced models
---
---
2022 Car Prices (11) 2022 CARS (13) 2022 News (24) 2022 Tech News (13) 2023 Cars Price List (11) apple (17) Automotive News (146) Automotive News Pakistan (20) Auto News (66) Auto Sector (13) car news (26) Car Prices (11) cars (48) cars 2021 (11) cars of pakistan (47) Cricket (12) electric cars (12) entertainment news (12) F1 (24) F1 News (12) Formula 1 (12) Honda (11) Hyundai (12) Imran Khan (18) Imran Khan News (19) mg (10) MG Pakistan (13) new cars (35) news (303) news pakistan (16) News Update (19) pakistan automotive news (12) Pakistan Government (37) Pakistan News (70) PCB (23) proton (12) proton pakistan (14) PTI (21) Sports News (43) suzuki (16) Suzuki Pakistan (11) Tech News (52) Toyota (14) Weintek (11) Weintek Pakistan (11)