Comparison Between Proton SAGA V/S Honda City
August 10, 2021 / By Zunair Tahir / Blogs Pakistan
When the company's best-seller made its debut in Pakistan earlier this month, PROTON added another foreign market to the current Proton Saga's repertoire. With the inclusion of the sixth most populated country, Brunei, Bangladesh, Egypt, Jordan, Kenya, Mauritius, Nepal, and Pakistan, the Saga, which underwent a substantial upgrade in 2019, is now accessible in eight foreign markets.
---
ALSO READ
PROTON CAR PRICE IN PAKISTAN
---
In Pakistan, the Proton Saga lineup includes three models: the Saga MT, Saga AT, and Saga Ace AT, as well as 100 units of the Proton Saga R3 Limited Edition, which will be available with either the MT or AT gearbox. For the others, a fortunate draw will be performed, and purchasers must register their interest by April 16th.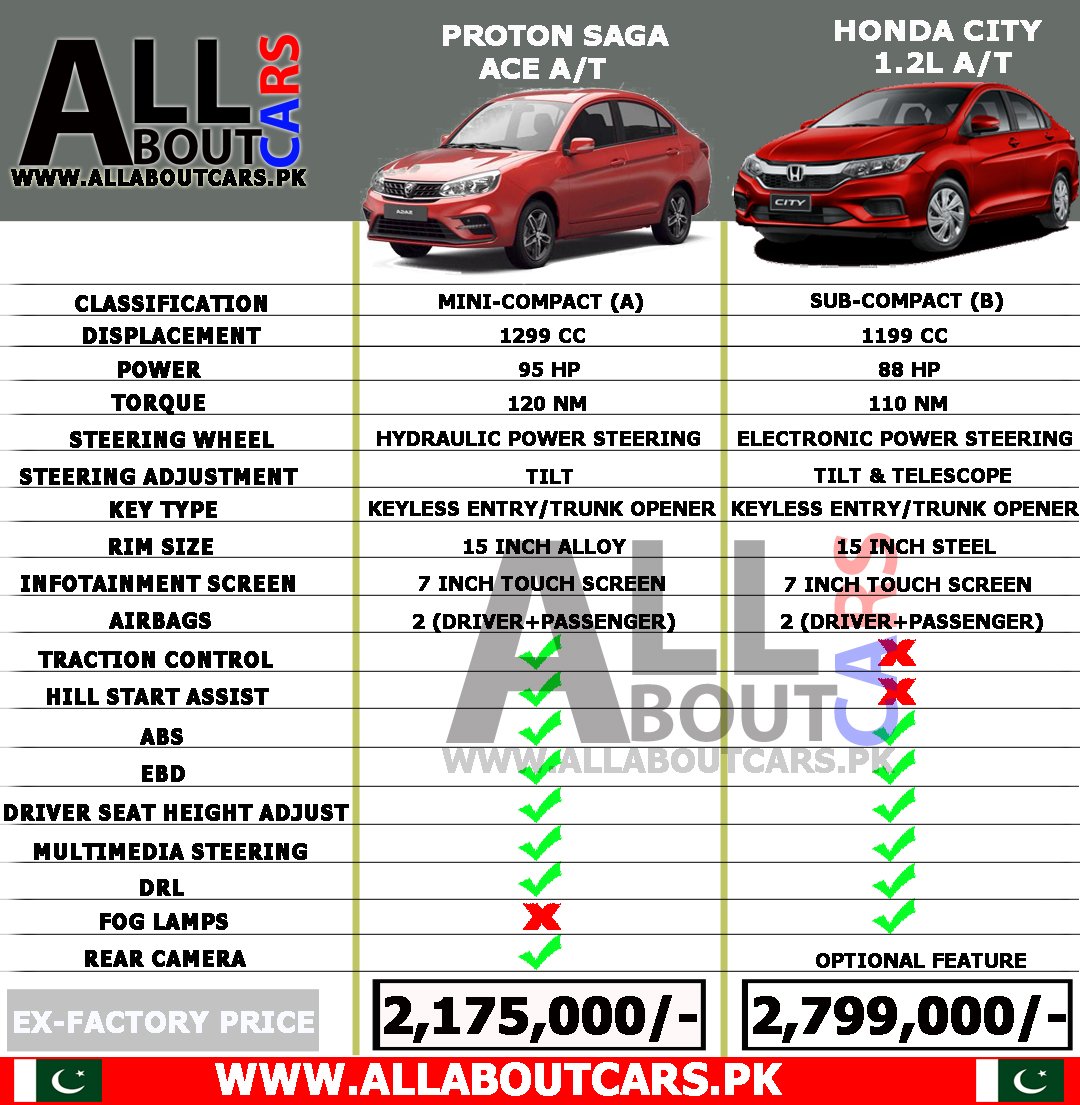 Honda City has been recently launched in Pakistan at a very competitive price as we all know the History of Honda In Pakistan the Honda City is very famous and one of the best selling models of the Company as before the company hasn't revealed the Price but booking was allowed and many people were trying to Book the New City 2021 But the sad truth is that in other part of the world Honda City model has been changed and updated quite enough.
---
ALSO READ
HONDA CAR PRICE IN PAKISTAN
---
Is Honda City 2021 Competitive Enough
As we saw the comparison sheet shown above there is a quite big difference in price of the car between these two models Price is consider a big impact in choosing of the New Car in Pakistan
People in Pakistan are not very rich so when it comes to choosing the new car first people see the price of the car and if we saw other specifications of the car there is no such difference in specifications and the spec are same as the Proton Saga offers but in very less price than the New Honda City 2021.Proton is the Malaysian based company and the Honda is Japanese based so this is also very big talk among people of Pakistan Japanese product is consider more efficient and reliable then any other car in the Market.
Comment below Your Thought When Choosing New Car…
---