For The ICC Cricket World Cup 2023, The Pakistan Cricket Board Has Unveiled The Star Nation Jersey
August 28, 2023 / By Zunair Tahir / Sport News
---
At a lavish event held at the Gaddafi Stadium in Lahore today, the Pakistan Cricket Board introduced the Star Nation Jersey.
The PCB Management Committee Chairman, Mr. Zaka Ashraf, presided over the event, which represented an important development in the national team's preparations for the upcoming ICC Cricket World Cup 2023.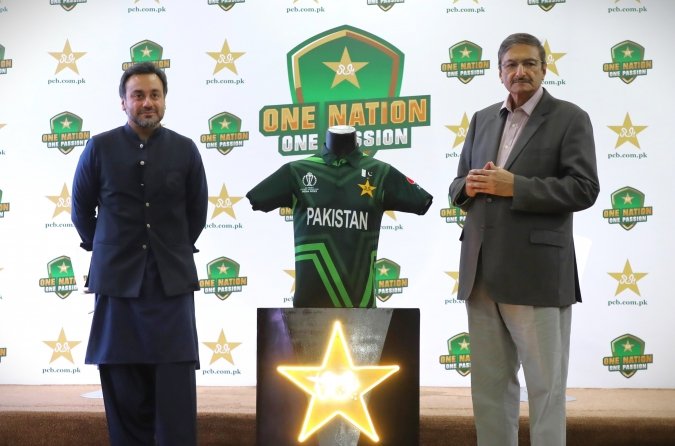 The Star Nation Jersey is more than just a simple article of clothing; it captures the deep bond between Pakistan's cricketing greats and their devoted fans.
Each star, which takes its cue from celestial planets, stands for brilliance, desire, and the brilliant light of cricketing accomplishments. This design strategy, which captures the essence of the game's quality, resonates well with Pakistani cricket fans.
The Star Nation Jersey exemplifies the unbreakable link between our cricketers and the devoted supporters that support them during every match. This jersey captures both our illustrious cricketing past and the bright future that lies ahead.
"The Star Nation Jersey is more than simply a uniform; it's a work of art filled with tales of struggles and victories.
The steadfast support of our supporters and the illustrious heritage of our cricketing legends are symbolized by each star on this shirt. To make sure that wearing this jersey would inspire genuine pride in every Pakistani, every aspect has been painstakingly designed.
The Star Nation Jersey is currently available for pre-order on shop.pcb.com.pk, the PCB's official online store.
Fans may express their support for the cricketing heroes and come together as a single force as Pakistan begins its quest for victory in the ICC Cricket World Cup 2023 by wearing this jersey with pride.
---
---
2022 Car Prices (11) 2022 CARS (13) 2022 News (24) 2022 Tech News (13) 2023 Cars Price List (11) apple (18) automobile (10) Automotive News (125) Automotive News Pakistan (20) Auto News (51) Auto Sector (13) car news (26) Car Prices (11) cars (48) cars 2021 (11) cars of pakistan (47) Cricket (11) electric cars (12) entertainment news (12) F1 (23) F1 News (11) Formula 1 (12) Hyundai (11) Imran Khan (18) Imran Khan News (19) MG Pakistan (12) new cars (34) news (275) news pakistan (16) News Update (13) pakistan automotive news (12) Pakistan Government (36) Pakistan News (69) PCB (23) proton (12) proton pakistan (14) PTI (21) Sports News (41) suv (10) suzuki (15) Suzuki Pakistan (10) Tech News (49) Toyota (11) Weintek (11) Weintek Pakistan (11)