The Truth ! Advantage & Disadvantages of PPF(Paint Protection film) On Car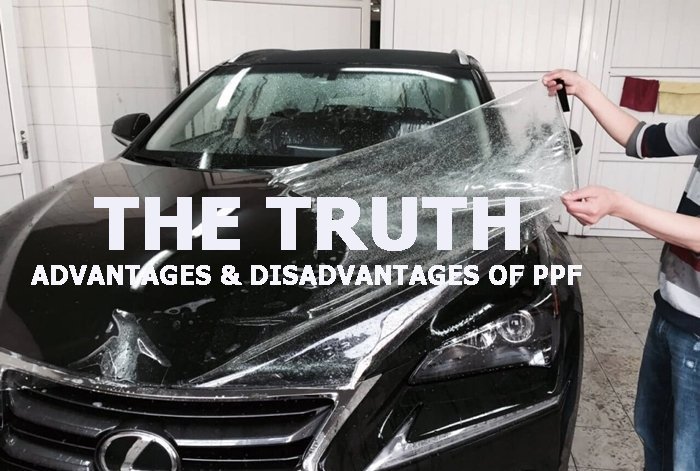 Paint protection film may make a significant difference in the endurance of a faultless paint job, but it also adds to the cost of assembly. You may be wondering, "Is it worth it?"
In this short pros/cons list, we've set out all of the benefits and drawbacks of paint protection film to help you weigh your options:
PROS: The Advantages of Paint Protection Film
It's Invisible:

You may be covering the vehicle's paint, but a thin, translucent coating of paint protection film (PPF) is virtually undetectable. Modern films can provide long-lasting and robust protection without adding bulk. Most are barely 8 mils (0.0008 inches) thick and block less than 0.1 percent of the light that reaches the paint!

Customizable to Your Needs:

You may easily target particular vehicle sections with die-cut anti-chipping films or wrap entire body panels, depending on the scope of your project.

Service Extends Vehicle Value Depreciation:

As years of wear and tear damage a vehicle's mechanical characteristics, look, and gloss, its value depreciates. Paint protection films extend the life of a vehicle by efficiently resisting dirt, pebbles, sand, and other impacts that cause chips, scratches, and abrasions. Some films are even self-healing.

Easy to Apply:

Ceramic coatings are another popular method for paint protection that is easier to apply than alternatives. Unfortunately, these coatings are messier, necessitate more expensive equipment, and add to the already lengthy drying time for your painting procedure. Inefficiencies like this reduce your profit margins. PPF installation is quick, and it allows you to pass savings on to OEMs while increasing negotiating leverage.
---
ALSO READ
WHAT IS THE PURPOSE OF CERAMIC COATING? BENEFITS? DISADVANTAGES?
---
CONS: The Disadvantages of Paint Protection Film
Expensive Costs:

Applying a paint protection layer is more expensive than just leaving the paint alone. However, the extra expenditures are more than offset by long-term value gains, particularly in high-risk regions of the vehicle. You may save money by using protective films only in areas that are often subjected to impacts and pollutants (i.e., fenders, lower body panels, front fascia, side mirrors).

The Film Could Be Placed Inadequately:

A paint protection film is only a dependable option if it is applied smoothly throughout the whole surface area, devoid of ripples, wrinkles, and bubbles. You may minimize the hazards of an incorrect application by working with a reputable vendor and giving your staff with an easy-to-implement solution that requires minimum training.

Some Films Yellow Over Time:

This is a typical defect of older film types, which deteriorate and yellow when exposed to UV light over an extended period of time (a given on an outdoor vehicle). This flaw is no longer present in newer materials. Throughout their service life, modern urethane films keep their flawless transparency.

Need Replacement:

Paint protection films are often covered by warranties of 5, 10, or 12 years. After this point, the film's integrity cannot be guaranteed. However, this is a substantial period of optimal service life, and redoing a paint job in the interim (due to inadequate protection) would be a massive expenditure.
---
ALSO READ
How to Read Your Tyre Size
---