Imran Advises PTI Supporters To Suspend Protest & Get Ready For Long March
October 22, 2022 / By Zunair Tahir / Pakistan News
---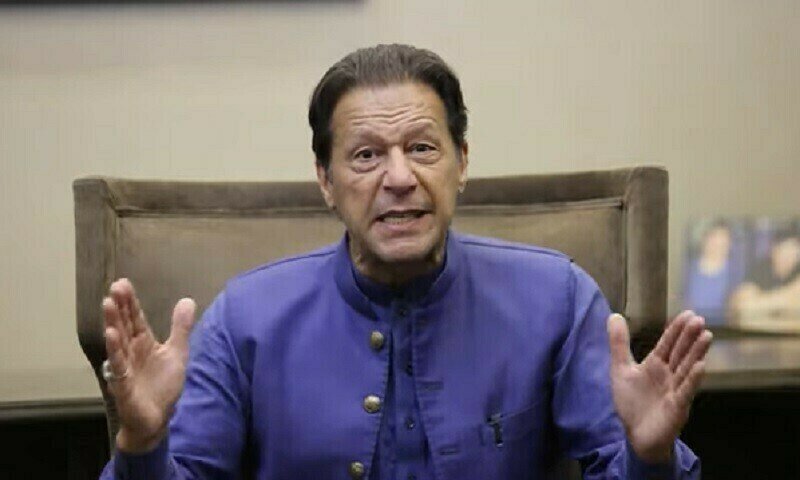 Imran Khan, the chairman of the Pakistan Tehreek-i-Insaf (PTI), urged his followers on Friday to end the nationwide demonstrations over the ECP's decision to disqualify him in the Toshakhana reference.
The leader of the PTI blasted the ruling coalition for seeking to "silence" him in a pre-recorded address that was shown on TV. Additionally, he claimed that he had predicted the outcome and accused the chief election commissioner of prejudice.
At the conclusion of his speech, he changed his tone and urged his followers to halt the nationwide demonstrations.
Imran declared: "I am urging the protestors to halt their demonstrations because people are in hardship." He then vowed to battle these "thieves" till the end of time.
He also asked his fans to prepare for the lengthy march of the party. "I had stated that I would host a lengthy march by the month's end. I'll stage the largest demonstration. I shall keep pushing for true freedom until the rule of law is achieved.
Pakistan, according to Imran, is at a turning point. Allah desires that we stand up to these robbers. Before we get ready to fight them, we can't get rid of these robbers.
He said that he will issue the call for the long march as he concluded his speech.
Imran made his comments after PTI supporters protested the election watchdog's decision to dismiss the former premier in key cities throughout the nation.
PTI members and supporters gathered in huge numbers in Islamabad at the Faizabad Interchange, where police used tear gas to stop the demonstrators from proceeding in that direction.
The workers stopped traffic on the artery by blocking the main route and torching tyres.
Several hundred demonstrators attempted to block a crucial entrance to Islamabad, but were repelled with tear gas, according Pakistani police spokesman Sohail Khan.
He said that the demonstrators tried unsuccessfully to block other highways in the city as well as attack police with stones, wounding three officers.
The highway from Faizabad to Islamabad has been unblocked, according to a later report from the Islamabad police. According to the police, the route from Islamabad would also be unblocked shortly. They also noted that some locals were obstructing traffic by lighting trees on fire.
The growing number of protestors caused traffic on the street to get backed up. Police also used water cannons to disperse the crowd because of the impending violence.
Ali Haider Zaidi and other party officials could be seen participating in what was described as a "calm demonstration" in images posted by the party's official Twitter account.
---
---
2022 Car Prices (11) 2022 CARS (13) 2022 News (24) 2022 Tech News (13) 2023 Cars Price List (11) apple (18) automobile (10) Automotive News (128) Automotive News Pakistan (20) Auto News (54) Auto Sector (13) car news (26) Car Prices (11) cars (48) cars 2021 (11) cars of pakistan (47) Cricket (11) electric cars (12) entertainment news (12) F1 (23) F1 News (11) Formula 1 (12) Hyundai (11) Imran Khan (18) Imran Khan News (19) MG Pakistan (12) new cars (34) news (280) news pakistan (16) News Update (13) pakistan automotive news (12) Pakistan Government (37) Pakistan News (70) PCB (23) proton (12) proton pakistan (14) PTI (21) Sports News (41) suv (10) suzuki (15) Suzuki Pakistan (10) Tech News (49) Toyota (11) Weintek (11) Weintek Pakistan (11)