Punjab's New School Schedule For The Winter Of 2022 Will Begin In October
October 13, 2022 / By Zunair Tahir / Pakistan News
---
Punjab's new school schedule for the winter of 2022 will go into effect in the middle of October on either Monday, October 15, or Monday, October 17, 2022. The new school schedules will be discussed on Twitter by Dr. Murad Raas, the minister of education.
For the winter season, the Punjab School Education Department typically modifies the school hours throughout the whole province of Punjab in the month of October. These hours are in place until April 15 of the following year, or 2023.
It is evident from last year's notices that starting on October 16, 2022, all schools in Punjab, whether public and private, would have new schedules.
For all Punjabi girls' schools, the new hours are 8:30 AM to 2:30 PM, and for all Punjabi boys' schools, the new hours are 8:45 AM to 2:45 PM. For Monday through Thursday and Saturday, use this time. Friday at 12 PM, all schools will be out of session.
The revised times for the insaf afternoon school are 8:30 AM to 12:30 PM for the first shift on Monday through Thursday and Saturday and 1 PM to 5 PM for the second shift schools.
The revised hours for Insaf afternoon schools and double shift schools are 8:30 am to 12:00 pm for the first shift and 2:30 pm to 5:30 pm for the second shift on Friday.
With the existing conditions of the winter season and the pollution issues in Punjab, there may be little change from the department.
Official Notification of Punjab New School Timings 2022
Soon, the formal announcement of the new school hours will be made accessible. Information is supplied about the notification from the previous year. The new notification will be available when School Education Department Punjab will issue it.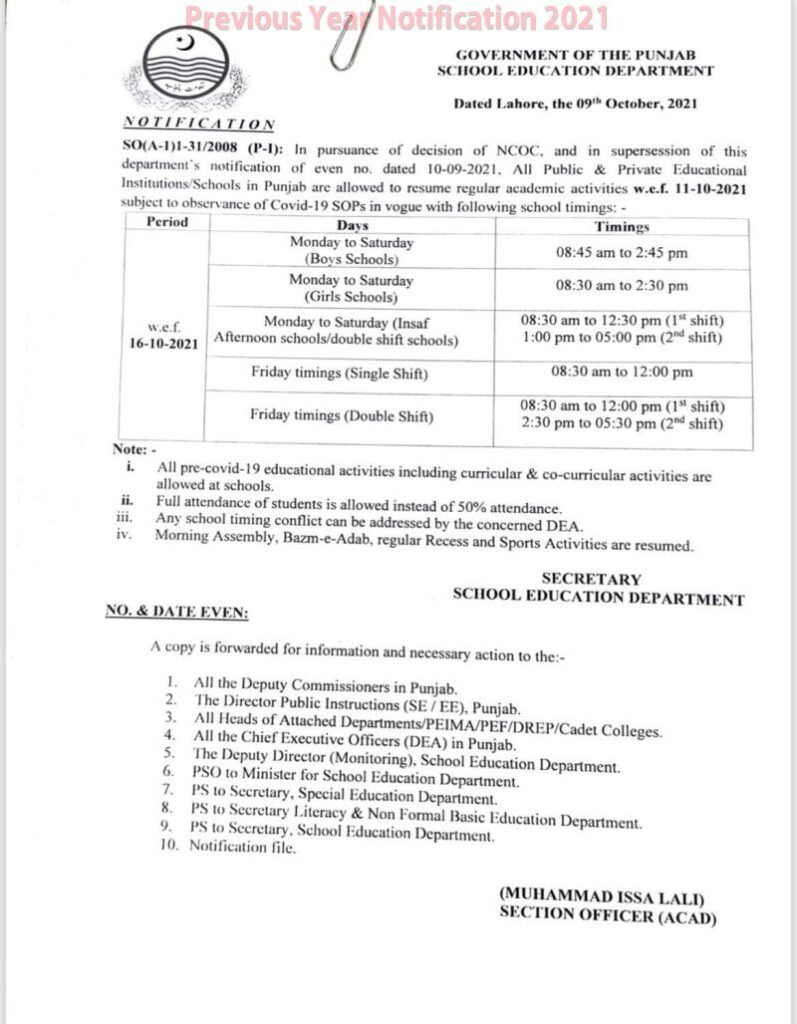 Pervez Elahi, the chief minister of Punjab, tweeted about the smog issue there during the winter. The chief minister of Punjab warned the agricultural industry not to burn crop waste in a tweet. Otherwise, they will face strict punishment based on their conduct.
School Winter Break December 2022
Since the new school schedules are revealed in the winter. Holiday announcements will be made in December 2022 and January 2023. Murad Raas said that there will be two parts to the winter break last year. This year, the outcome will be determined by the severity of the cold weather.
For Punjab School, Education Department news stay updated with us through our social media platform and Email Subscriptions.
---
---
2022 Car Prices (11) 2022 CARS (13) 2022 News (24) 2022 Tech News (13) 2023 Cars Price List (11) apple (17) Automotive News (142) Automotive News Pakistan (20) Auto News (63) Auto Sector (13) car news (26) Car Prices (11) cars (48) cars 2021 (11) cars of pakistan (47) Cricket (12) electric cars (12) entertainment news (12) F1 (24) F1 News (12) Formula 1 (12) Honda (11) Hyundai (12) Imran Khan (18) Imran Khan News (19) mg (10) MG Pakistan (13) new cars (35) news (299) news pakistan (16) News Update (19) pakistan automotive news (12) Pakistan Government (37) Pakistan News (70) PCB (23) proton (12) proton pakistan (14) PTI (21) Sports News (43) suzuki (16) Suzuki Pakistan (11) Tech News (52) Toyota (13) Weintek (11) Weintek Pakistan (11)