Korea Defeats Pakistan In An Asia Cup Warm-Up Match
May 21, 2022 / By Zunair Tahir / Sport News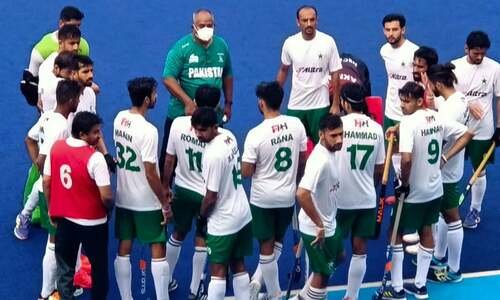 LAHORE: Pakistan's Asia Cup campaign got off to a bad start as they lost 2-1 to South Korea in a practice match in Jakarta.
According to the Pakistan Hockey Federation (PHF )'s on Friday, Ali Shan scored Pakistan's sole goal, while South Korea scored two goals, one on a short corner and the other in a field effort.
On Monday, Pakistan takes on arch-rival India in the Asia Cup opener, followed by a match against Indonesia on Tuesday.
The Asia Cup will also act as a qualifier for the World Cup next year, which will feature four Asian countries.
---
---
2022 Car Prices (11) 2022 CARS (13) 2022 News (24) 2022 Tech News (13) 2023 Cars Price List (11) apple (18) automobile (10) Automotive News (128) Automotive News Pakistan (20) Auto News (54) Auto Sector (13) car news (26) Car Prices (11) cars (48) cars 2021 (11) cars of pakistan (47) Cricket (11) electric cars (12) entertainment news (12) F1 (23) F1 News (11) Formula 1 (12) Hyundai (11) Imran Khan (18) Imran Khan News (19) MG Pakistan (12) new cars (34) news (280) news pakistan (16) News Update (13) pakistan automotive news (12) Pakistan Government (37) Pakistan News (70) PCB (23) proton (12) proton pakistan (14) PTI (21) Sports News (41) suv (10) suzuki (15) Suzuki Pakistan (10) Tech News (49) Toyota (11) Weintek (11) Weintek Pakistan (11)