Rolls-Royce Wraith Black Arrow, The Final Coupe Powered By The Legendary V12
March 24, 2023 / By Zunair Tahir / Automotive News
---
The Conclusion Of A Chapter
Black Emblem for the Rolls-Royce Wraith Black Arrow, one of only 12 in a very small number, is the final V12 car produced by Rolls-Royce. It has been created to commemorate the iconic 12-cylinder's ultimate farewell before making way for the ground-breaking Specter's all-electric drivetrain.
Unique Collection Of Art
The Rolls-Royce Wraith Black Badge Black Arrow has an unique dual-tone paint treatment on the exterior that combines Celebration Silver and Black Diamond. It is a very unique 12-hour polish finish made with a coating of vitrified paint to improve the impact of light shift during the darker hours of the day.
Car's Interior
A novel substance that was created specifically for the "Collection" is used inside the Black Arrow. The armrests, seat gussets, transmission tunnel, door features, side bags, and lower console panel are all covered in "Club Leather," which has a purposefully higher sheen and even darker black coloring than the matt black natural-grain leather used on the Rolls-Royce interior.
How The Seats Are Finished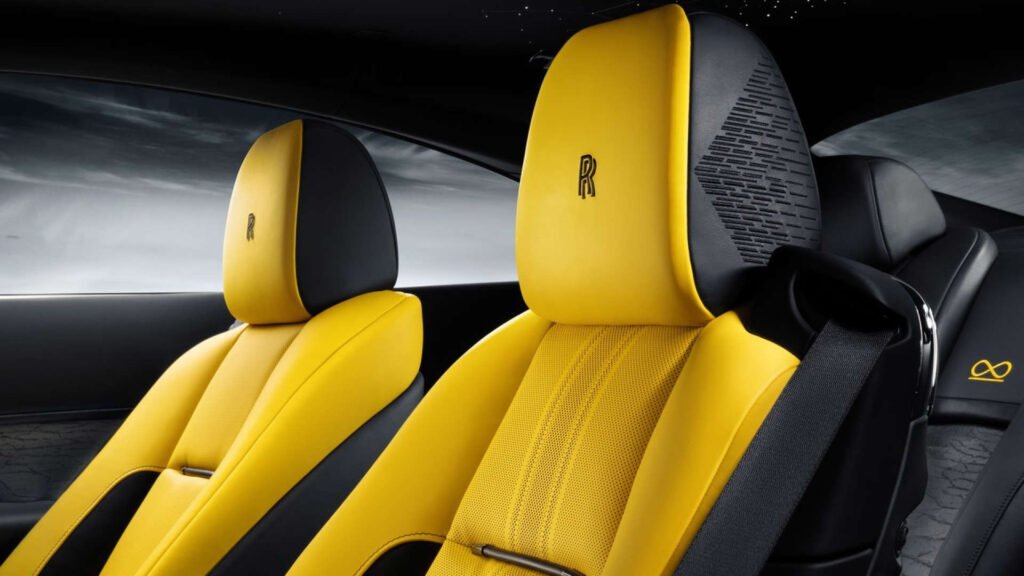 Some internal features, like the trim on the front chairs and the sports steering wheel, have the same intense yellow color as the exterior. Lastly, a replica of the V12 engine, influenced by the analogue gauges of the 1930s, has been mounted on the dashboard of this ultra-exclusive Black Badge Black Arrow.
Completely Sold Out
The front motor is the most recent 6.7-litre twin-turbocharged V12, which is evident from its exclusive Bespoke number plate and the fact that it is essentially the last 12-cylinder to have been installed in a Rolls-Royce car. The most devoted customers have already received all 12 scheduled vehicles.
---
---
2022 Car Prices (11) 2022 CARS (13) 2022 News (24) 2022 Tech News (13) 2023 Cars Price List (11) apple (18) automobile (10) Automotive News (125) Automotive News Pakistan (20) Auto News (51) Auto Sector (13) car news (26) Car Prices (11) cars (48) cars 2021 (11) cars of pakistan (47) Cricket (11) electric cars (12) entertainment news (12) F1 (23) F1 News (11) Formula 1 (12) Hyundai (11) Imran Khan (18) Imran Khan News (19) MG Pakistan (12) new cars (34) news (275) news pakistan (16) News Update (13) pakistan automotive news (12) Pakistan Government (36) Pakistan News (69) PCB (23) proton (12) proton pakistan (14) PTI (21) Sports News (41) suv (10) suzuki (15) Suzuki Pakistan (10) Tech News (49) Toyota (11) Weintek (11) Weintek Pakistan (11)