Carlex Design Gives The Ferrari Purosangue A Two-Tone Makeover With 23-Inch Rims
May 18, 2023 / By Zunair Tahir / Automotive News
---
The Ferrari Purosangue, the brand's first four-door vehicle, debuted in September, and Carlex Design is already giving it a facelift. The aftermarket expert now provides a two-tone paint scheme for the new model as part of an interior and exterior design package.
The Tuner's Cabin Is Decorated With A Green And White Color Scheme
Racing Green was painted on the top of the Purosangue by Carlex, who contrasted it with brushed silver on the bottom to give the Ferrari a stunning look. From the front, the green on top stretches over the hood and wraps around the greenhouse until ending at the top of the rear hatch.
The two-tone design was carried throughout the cabin by the tuner. However, Carlex substituted pearl white for the brushed silver and paired it with bottle green. The door cards, dashboard, and seat inserts are all green, while the seat backs and center consoles are decorated with white. The Carlex Design 23-inch wheels, which have a green accent, and the tuner's logos on the outside and headrests serve as the final touches.
Specifications:
Although the powertrain is unchanged, there shouldn't be any issues. The Ferrari has a naturally aspirated 6.5-liter V12 engine that produces 528 pound-feet of torque and 715 horsepower. The Purosangue, according to the company, can accelerate to 62 mph in 3.3 seconds and has a peak speed of more than 192 mph.
All four wheels receive power from its eight-speed dual-clutch transmission, however the front-wheel drive system does disengage depending on the gear and speed.
Although Ferrari's first four-door model could appear to be a blunder for the venerable sports car manufacturer, demand has been strong ever since it was introduced.
The business disclosed earlier this month that it had enough orders for Purosangue to stay busy till 2025. Because of the enthusiastic early reaction from clients, it also opened the order books again after closing them.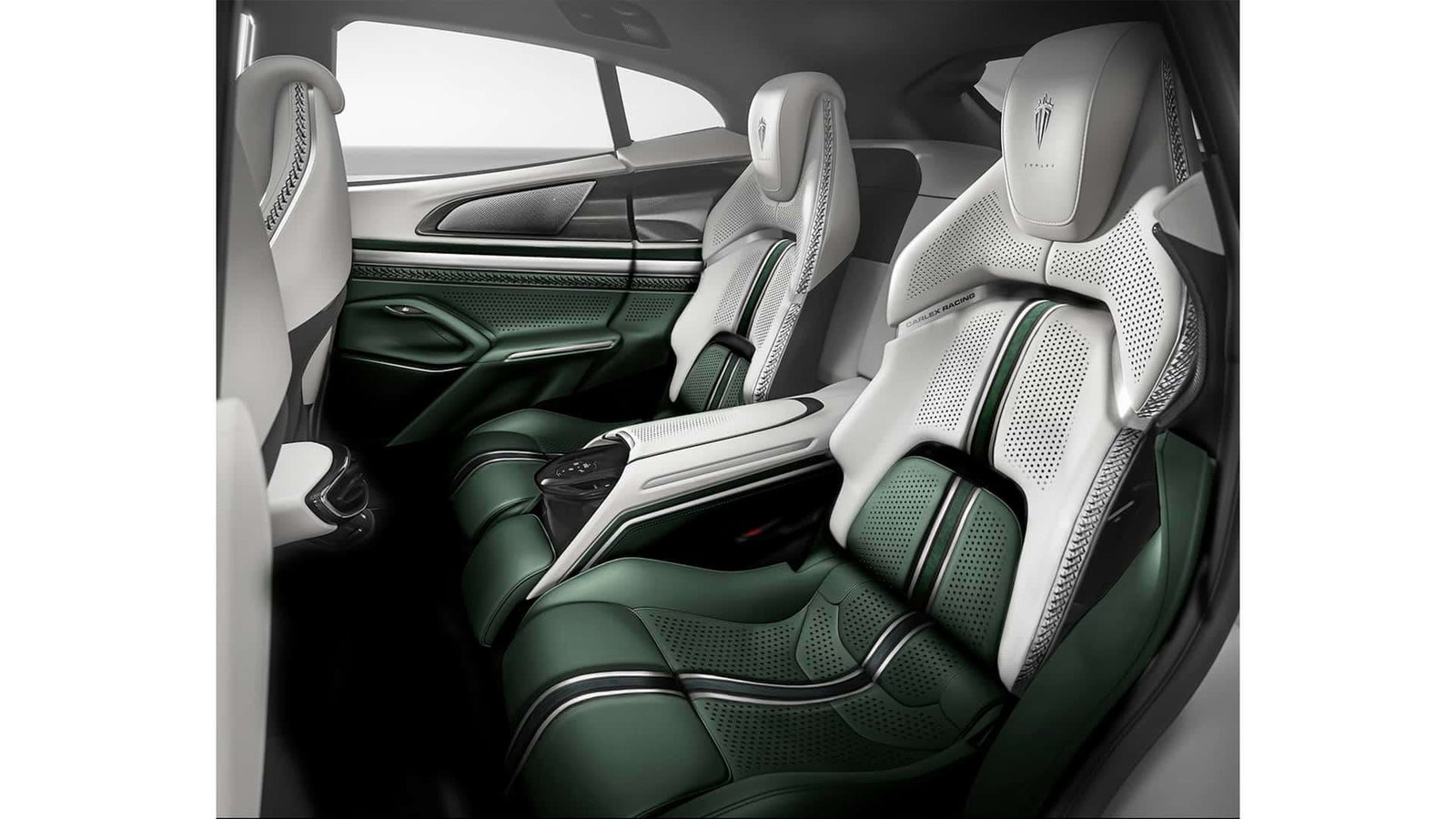 In the upcoming months and years, we anticipate seeing additional improvements and kits for the four-door Ferrari as tuners and specialists start fiddling. The entire conversion is available through Carlex for €61,500 ($66,618 at the current currency rate). Customers may, however, choose to purchase the exterior, interior, and rim packages separately for €16,500, €36,00, and €12,000 ($17,873, $38,996, and $12,998).
---
---
2022 Car Prices (11) 2022 CARS (13) 2022 News (24) 2022 Tech News (13) 2023 Cars Price List (11) apple (17) Automotive News (146) Automotive News Pakistan (20) Auto News (66) Auto Sector (13) car news (26) Car Prices (11) cars (48) cars 2021 (11) cars of pakistan (47) Cricket (12) electric cars (12) entertainment news (12) F1 (24) F1 News (12) Formula 1 (12) Honda (11) Hyundai (12) Imran Khan (18) Imran Khan News (19) mg (10) MG Pakistan (13) new cars (35) news (303) news pakistan (16) News Update (19) pakistan automotive news (12) Pakistan Government (37) Pakistan News (70) PCB (23) proton (12) proton pakistan (14) PTI (21) Sports News (43) suzuki (16) Suzuki Pakistan (11) Tech News (52) Toyota (14) Weintek (11) Weintek Pakistan (11)