Boosting Productivity With HMI: Integrating Equipment And MES
August 28, 2023 / By Zunair Tahir / Automation News
---
FUKUTA ELEC. & MACH Co., Ltd. (FUKUTA) has continuously changed with the times since its founding in 1988 and has proven its superiority in the design and production of industrial motors. FUKUTA has recently established itself as a major participant in the electric motor market, serving as a major supplier to a well-known producer of electric vehicles and establishing strong alliances with the others.
The Issue
FUKUTA intends to establish a second production line to help satisfy the rising demand. By integrating a Manufacturing Execution System (MES), which will result in a more efficient business and higher production, FUKUTA sees this expansion as a great chance to digitize its manufacturing process. Therefore, finding a solution that would make MES integration with a variety of their current equipment easier is FUKUTA's primary goal.
Key Conditions
Gather information from various PLCs and equipment on the manufacturing line, then synchronize it with the MES.
Make MES data available to on-site staff by giving them access to work orders, production schedules, inventories, and other pertinent information, for example.
The Solution
An HMI is already a crucial component of contemporary production, and FUKUTA's is no exception. It makes machine operation more intuitive than ever. Fukuta chose the cMT3162X as the main HMI for this project and took use of its robust built-in connection.
This tactical approach opens the path for effective data flow between equipment and MES and readily assists in overcoming several communication problems.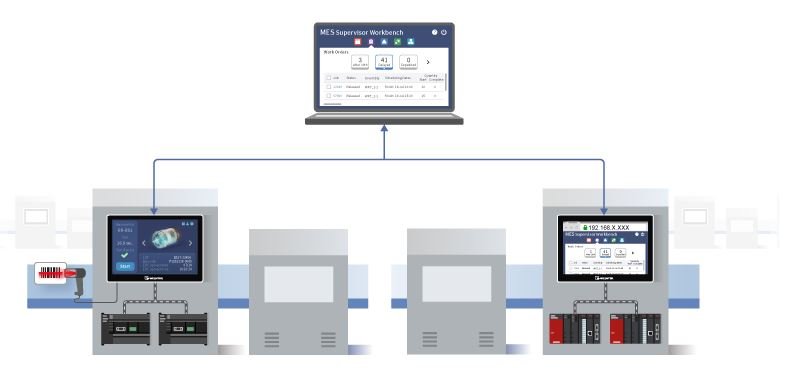 1) MES And PLC Integration
A single HMI is intended to link to well over ten devices in FUKUTA's proposal, including PLCs from reputable manufacturers like Omron and Mitsubishi, power assembly tools, and barcode scanners. While this is happening, the HMI uses an OPC UA server to transmit all of the crucial field data from these devices directly to the MES.
This makes it simple to gather and upload the whole production data to the MES, ensuring full traceability of every motor manufactured and laying the groundwork for future system maintenance, quality control, and performance analysis.
2) Real-Time MES Data Retrieval
Beyond data uploads, the HMI-MES connection also includes. Since the MES in use supports webpages, FUKUTA makes advantage of the cMT3162X's built-in Web Browser to give on-site personnel rapid access to the MES and, therefore, the status of nearby production lines.
The on-site crew can react to situations more quickly because to the improved information accessibility and the awareness that follows, which lowers downtime and boosts overall production efficiency.

In addition to meeting the project's fundamental objectives, FUKUTA has adopted additional Weintek HMI technologies to streamline the manufacturing process. FUKUTA used Weintek HMI's remote monitoring solution to monitor equipment in a more adaptable manner.
Engineers and technicians may instantly view HMI displays from any location with cMT Viewer, allowing them to monitor equipment performance in real-time. Additionally, they are able to keep an eye on many devices at once without interfering with on-site activities.
Their new manufacturing line's early phases benefited from this collaborative quality, which eventually reduced the time it took to reach full operation. This collaborative quality also accelerated system tuning during trial runs.
Results
FUKUTA has effectively introduced MES into its operations using Weintek's technologies. This not only assisted in digitizing their production records but also resolved time-consuming issues like manual data entry and equipment monitoring.
With the opening of the new production line, FUKUTA projects a 30–40% increase in motor production capacity, with an annual output of around 2 million units. Most significantly, FUKUTA has surmounted the challenges associated with data gathering that are frequently encountered in traditional manufacturing, and they now have access to all production data.
When they try to improve their production methods and yield in the upcoming years, these statistics will be essential.
Use Of Products And Services:
cMT3162X HMI (cMT X Advanced Model)
Mobile Monitoring Tool – cMT Viewer
Web Browser
OPC UA Server
Various Drivers
---
---
2022 Car Prices (11) 2022 CARS (13) 2022 News (24) 2022 Tech News (13) 2023 Cars Price List (11) apple (17) Automotive News (145) Automotive News Pakistan (20) Auto News (65) Auto Sector (13) car news (26) Car Prices (11) cars (48) cars 2021 (11) cars of pakistan (47) Cricket (12) electric cars (12) entertainment news (12) F1 (24) F1 News (12) Formula 1 (12) Honda (11) Hyundai (12) Imran Khan (18) Imran Khan News (19) mg (10) MG Pakistan (13) new cars (35) news (302) news pakistan (16) News Update (19) pakistan automotive news (12) Pakistan Government (37) Pakistan News (70) PCB (23) proton (12) proton pakistan (14) PTI (21) Sports News (43) suzuki (16) Suzuki Pakistan (11) Tech News (52) Toyota (13) Weintek (11) Weintek Pakistan (11)