Haval Launches Locally Manufactured Jolion At Cost-Effective
May 18, 2023 / By Zunair Tahir / Automotive News
---
With the arrival of the much awaited domestically built Haval Jolion SUV, Pakistan's C-Segment SUV market has gotten a little bit more intriguing.
Last year, Haval introduced the domestically made H6, but a lot of automobile purchasers were interested in the introduction of Jolion.
Price
The Jolion's cost, required deposit, and estimated delivery date are as follows:
| | |
| --- | --- |
| Price (Rs.) | 8,299,000 |
| Booking Amount (Rs.) | 600,000 |
| Delivery Time | 3 to 4 Months |
DETAIL SPECIFICATIONS:
With its introduction, the C-segment of SUVs has become a little bit more intriguing. The Proton X70, Kia Sportage, and Hyundai Tucson are all direct rivals of the Jolion.
In contrast to its rivals, Jolion is a cutting-edge, futuristic-looking SUV from the inside out. There are six color choices available for it, including White, Black, Red, Blue, Green, and Grey. Grey, white, and bronze are used in the inside together with soft, high-end materials.
Its front wheels receive 147 horsepower and 220 Nm of torque from a 1.5-liter turbocharged 4-cylinder engine that is mated to a 7-speed DCT automated transmission.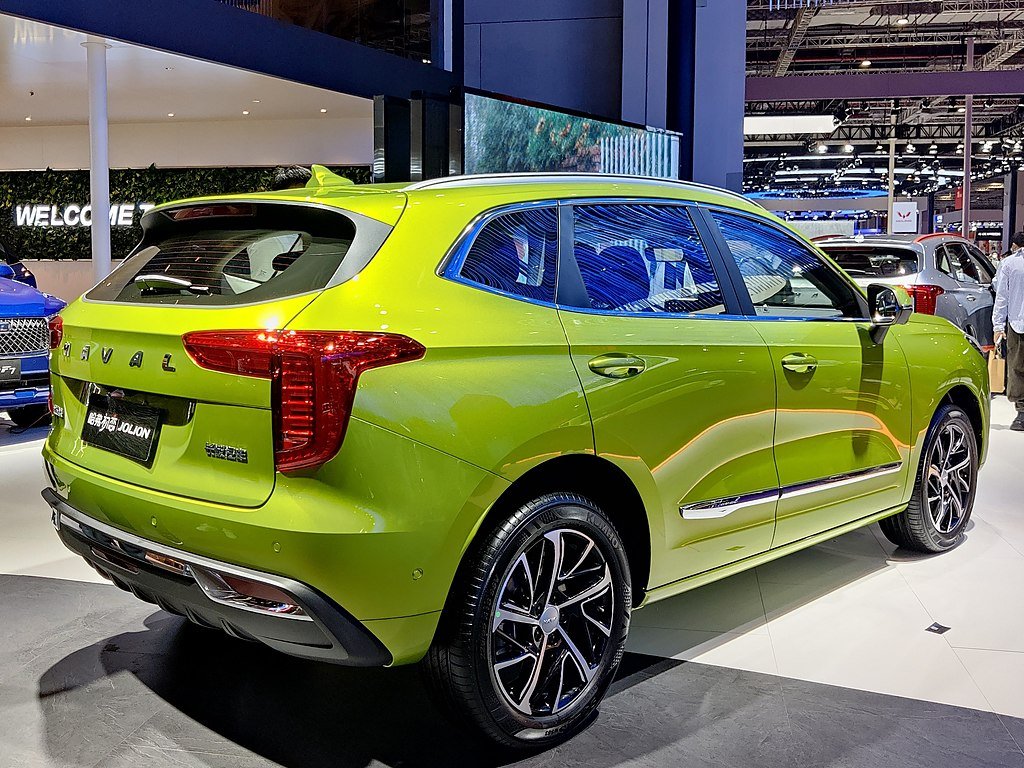 The SUV includes Electronic Brakeforce Distribution (EBD), Brake Assist (BA), and Anti-lock Braking System (ABS) components. McPherson Struts are used for the front suspension, while Torsion Bar Coil Springs are used for the rear suspension.
Electrically height-adjustable headlamps
Panoramic sunroof
Electric tailgate with delayed closing and memory function
Multi-function steering wheel
Paddle shifters
Wireless charge
Faux leather seats
6-way electric adjustable driver seat
4-way electric adjustable front passenger seat
Front ventilated seats
Large color instrument cluster
Large touch-based infotainment system with CarPlay & Android Auto
Dual-zone auto AC with rear vents
Full power windows with one-click lifting & anti-pinch function
Advanced Driver Assistance System (ADAS), etc.
With a substantial edge in performance and features, Jolion competes head-to-head with the Kia Sportage FWD and Hyundai Tucson GLS Sport FWD at its pricing point. Time will tell whether Haval's brand-new compact SUV will steal market share from established competitors.
---
---
2022 Car Prices (11) 2022 CARS (13) 2022 News (24) 2022 Tech News (13) 2023 Cars Price List (11) apple (18) automobile (10) Automotive News (128) Automotive News Pakistan (20) Auto News (54) Auto Sector (13) car news (26) Car Prices (11) cars (48) cars 2021 (11) cars of pakistan (47) Cricket (11) electric cars (12) entertainment news (12) F1 (23) F1 News (11) Formula 1 (12) Hyundai (11) Imran Khan (18) Imran Khan News (19) MG Pakistan (12) new cars (34) news (280) news pakistan (16) News Update (13) pakistan automotive news (12) Pakistan Government (37) Pakistan News (70) PCB (23) proton (12) proton pakistan (14) PTI (21) Sports News (41) suv (10) suzuki (15) Suzuki Pakistan (10) Tech News (49) Toyota (11) Weintek (11) Weintek Pakistan (11)