Porsche Showed Its Magnificent 800kW Speedster Concept, The Vision 357
July 15, 2023 / By Zunair Tahir / Automotive News
---
To commemorate the 75th anniversary of the German sports car manufacturer Porsche, the company has introduced a Speedster version of its outstanding Vision 357 concept.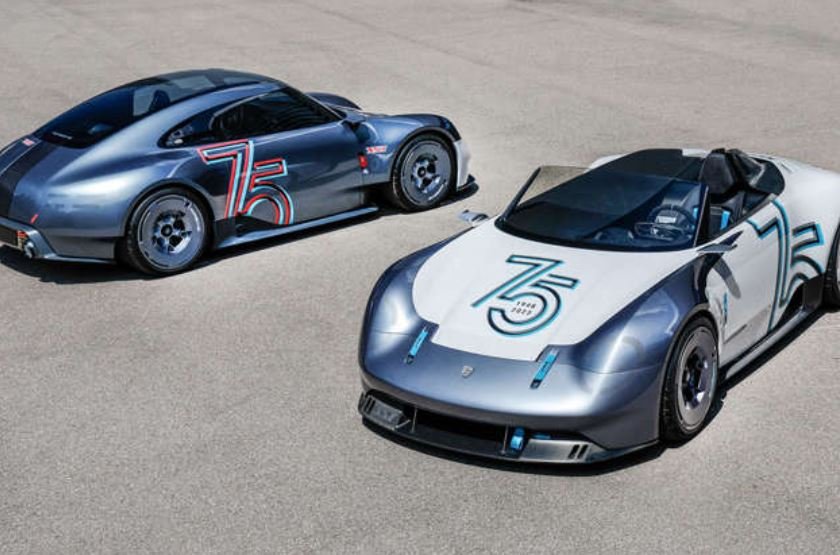 The spectacular drop-top design, on display at this year's Goodwood Festival of Speed, is based on the 918 GT4 e-Performance prototype, which generates 800kW and has a dual-motor setup.
This enables the 357 Speedster to accelerate quickly from 0 to 62 mph in less than 3.0 seconds.
The GT4's 82kWh battery is divided into many packs for improved weight distribution. In the "frunk," in the transmission tunnel, and behind the driver, there are many packs. This configuration likely applies to the 357 Speedster as well.
Porsche hasn't completely divulged the weight of the Speedster, but given that it's a show car, the 357 is anticipated to weigh somewhat more than its closely related GT4 e-Performance sister, which is believed to weigh approximately 1600kg.
One carbon fiber bucket seat can be found within the vehicle, which Porsche says is "fully tailored to the driver". The seat is really part of the Speedster monocoque, with the driver seated on Racetex pads and restrained by a Miami Blue-finished six-point harness.
Transparent digital instrumentation and a racing steering wheel are mounted on top of the steering column, and the dashboard's entire surface is constructed of exposed carbon fiber.
The German company's original 356 Speedster, which debuted in the middle of the 1950s, served as a major inspiration for the Vision 357. The new designs' slender shape and sloping front and back ends demonstrate this.
The Vision 357 Speedster, which has a blue and silver 75th Anniversary paint, is shorter than the car it is based on despite having a lot of stylistic cues with its coupe brother.
At this year's Festival of Speed, where the brand will be staging its 75th anniversary celebrations, the new idea makes its public premiere.
---
---
2022 Car Prices (11) 2022 CARS (13) 2022 News (24) 2022 Tech News (13) 2023 Cars Price List (11) apple (18) automobile (10) Automotive News (124) Automotive News Pakistan (20) Auto News (50) Auto Sector (13) car news (26) Car Prices (11) cars (48) cars 2021 (11) cars of pakistan (47) Cricket (11) electric cars (12) entertainment news (12) F1 (23) F1 News (11) Formula 1 (12) Hyundai (11) Imran Khan (18) Imran Khan News (19) MG Pakistan (12) new cars (34) news (274) news pakistan (16) News Update (12) pakistan automotive news (12) Pakistan Government (36) Pakistan News (69) PCB (23) proton (12) proton pakistan (14) PTI (21) Sports News (41) suv (10) suzuki (15) Suzuki Pakistan (10) Tech News (49) Toyota (11) Weintek (11) Weintek Pakistan (11)