The One-Off Super Roadster Pagani Huayra Dinamica Evo Makes Its Debut
March 17, 2023 / By Zunair Tahir / Automotive News
---
Other than the odd one-off supercars for wealthy clients, Pagani hasn't had much going on lately. The work never really ends at Pagani's San Cesario sul Panaro offices in Italy because producing a unique and highly personalized product to the incredible build standards of the manufacturer isn't a simple task. A brand-new one-off is now on the way, and it already looks amazing.
The Pagani Grandi Complicazioni branch received an order from an unnamed client to build this Huayra roadster, which is formally known as the Huayra Dinamica Evo. Although the Italian automobile manufacturer didn't publish a formal press statement describing the construction, it did let people know about it on social media.
We have very little knowledge at this point, but we believe we understand some of its technological specifics. But first, let's examine the outside.
The Huayra Dinamica Evo was designed by Pagani's customization department to "give shape to a customer's dreams." It has a brown body, which may seem a little dull for a supercar, but this specific model has gold/yellow highlights that give it much-needed visual focal points.
The front deflector winglets feature Italy's flag, and the side reflectors appear to have been redesigned. The orange markings on the front bumpers are a clear indication that this Huayra was ordered by a US client and will be delivered to its new residence there shortly.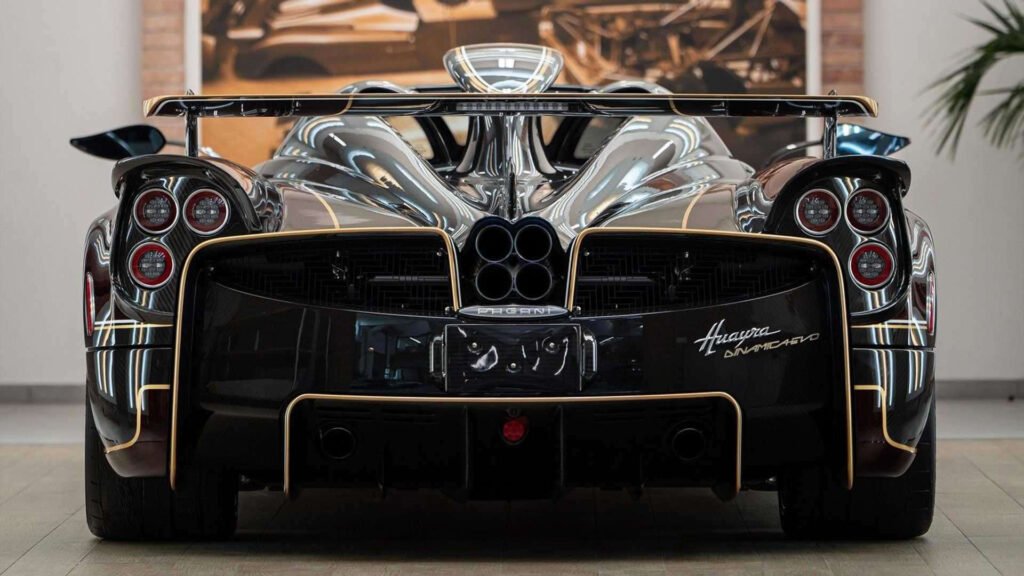 Although Pagani did not explicitly state that the car was built on the Huayra Roadster BC, that would seem to be the most likely candidate.
If that is the case, we will be looking at an open-top supercar with a 6.0-liter AMG twin-turbo V12 engine that produces 774 pound-feet (1,050 Newton-meters) of torque between 2,000 and 5,500 rpm and 802 horsepower at 5,900 rpm. At 2,756 pounds, this track-oriented vehicle is slightly heavier than its coupe-derived counterpart and marginally lighter than the non-BC Huayra Roadster.
Pagani declared it would only produce 40 instances of the supercar when the Huayra Roadster BC made its debut. According to logic, this specific one-off ought to be included in that manufacturing run.
---
---
2022 Car Prices (11) 2022 CARS (13) 2022 News (24) 2022 Tech News (13) 2023 Cars Price List (11) apple (18) automobile (10) Automotive News (124) Automotive News Pakistan (20) Auto News (50) Auto Sector (13) car news (26) Car Prices (11) cars (48) cars 2021 (11) cars of pakistan (47) Cricket (11) electric cars (12) entertainment news (12) F1 (23) F1 News (11) Formula 1 (12) Hyundai (11) Imran Khan (18) Imran Khan News (19) MG Pakistan (12) new cars (34) news (274) news pakistan (16) News Update (12) pakistan automotive news (12) Pakistan Government (36) Pakistan News (69) PCB (23) proton (12) proton pakistan (14) PTI (21) Sports News (41) suv (10) suzuki (15) Suzuki Pakistan (10) Tech News (49) Toyota (11) Weintek (11) Weintek Pakistan (11)