Working Gearbox And Pistons For The New Lego Technic Ferrari Daytona SP3
May 25, 2022 / By Zunair Tahir / Automotive News
Lego is also releasing a limited-edition book on its design partnership with Ferrari.
The latest Lego Technic set miniaturizes the Daytona SP3, one of Ferrari's most recent premieres. Last November, it joined Ferrari's Icon family of automobiles. The new Lego model will be available on June 1, and the two firms will celebrate with a limited-edition coffee table book recounting their work on the kit. The book will only be printed in 5,000 copies.
The 3,778-piece 1:8-scale Ferrari is 5.5 inches (15 centimeter's) tall, 23 inches (59 cm) long, and 9.5 inches (25 cm) broad. The Ferrari Daytona SP3 is incredibly detailed inside and out, much like Lego's other Technic kits – and in places that most people would never see.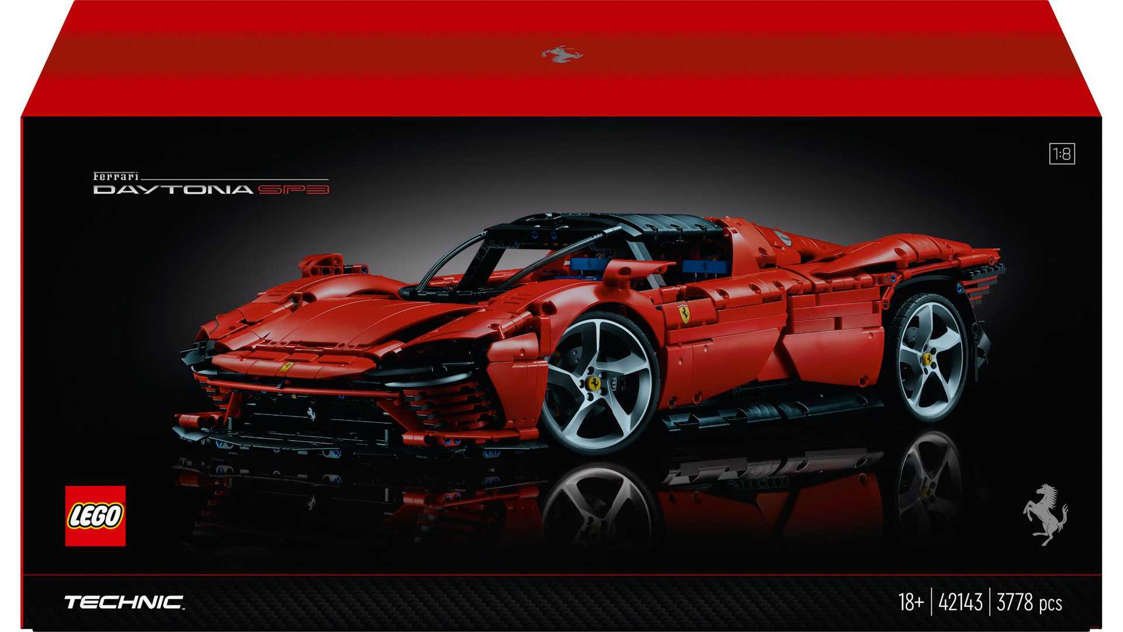 A functional 8-speed sequential gearbox and a V12 engine with moving pistons are included in the Lego Ferrari, but that's not all. The fully functional wishbone suspension, complete with detailed brake discs and working springs, will also be assembled by the builders.
The functional butterfly doors open to reveal an interior that has been painstakingly replicated, even down to the Ferrari insignia on the steering wheel. On the exterior, the automobile has silver-lacquered wheels with Ferrari center caps. "No aspect has been missed," claimed Lego Group CEO Niels B. Christiansen. "At such a small scale, the attention to detail and perfection of the model astounds me," he continued.
The kit will be available at Lego Stores worldwide on June 1 before being distributed to other stores on August 1. It'll set you back $399.99, and Lego recommends it for those aged 18 and over. On June 1, the book "Lego Technic Ferrari Daytona SP3: The Sense of Perfection" will be available for $79.99. The limited-edition book delves into the conceptualization, design, and production of the model.
The Lego Technic kit will be far more accessible than the real Daytona SP3. Only 599 Ferrari supercars will be produced. The Daytona is Ferrari's most aerodynamically efficient car ever, with a 6.5-liter V12 from the 812 Competition producing 828 horsepower (617 kilowatts) and 514 pound-feet (697 Newton-meters) of torque. The Lego kit is also far less expensive.
---
READ MORE NEWS…
---
2022 Car Prices (11) 2022 CARS (13) 2022 News (24) 2022 Tech News (13) 2023 Cars Price List (11) apple (18) automobile (10) Automotive News (128) Automotive News Pakistan (20) Auto News (54) Auto Sector (13) car news (26) Car Prices (11) cars (48) cars 2021 (11) cars of pakistan (47) Cricket (11) electric cars (12) entertainment news (12) F1 (23) F1 News (11) Formula 1 (12) Hyundai (11) Imran Khan (18) Imran Khan News (19) MG Pakistan (12) new cars (34) news (280) news pakistan (16) News Update (13) pakistan automotive news (12) Pakistan Government (37) Pakistan News (70) PCB (23) proton (12) proton pakistan (14) PTI (21) Sports News (41) suv (10) suzuki (15) Suzuki Pakistan (10) Tech News (49) Toyota (11) Weintek (11) Weintek Pakistan (11)