Proton Pakistan Has Taken Strong Notice Of False Accusations & Rumors Circulating On Social Media
June 28, 2022 / By Zunair Tahir / Automotive News
---
---
Proton Pakistan has taken strong notice of false accusations and rumors circulating on social media regarding our production and operations. Our production has been streamlined and we are delivering Proton SAGA and now Proton X70 on a regular basis.
Yesterday Proton Pakistan Share a Public Notice on their Facebook page regarding False Accusations & Rumors Circulating On Social Media epically many people have created fake Proton pages on the Facebook and are circulating fake news regarding late deliveries and many other rumor's are been created.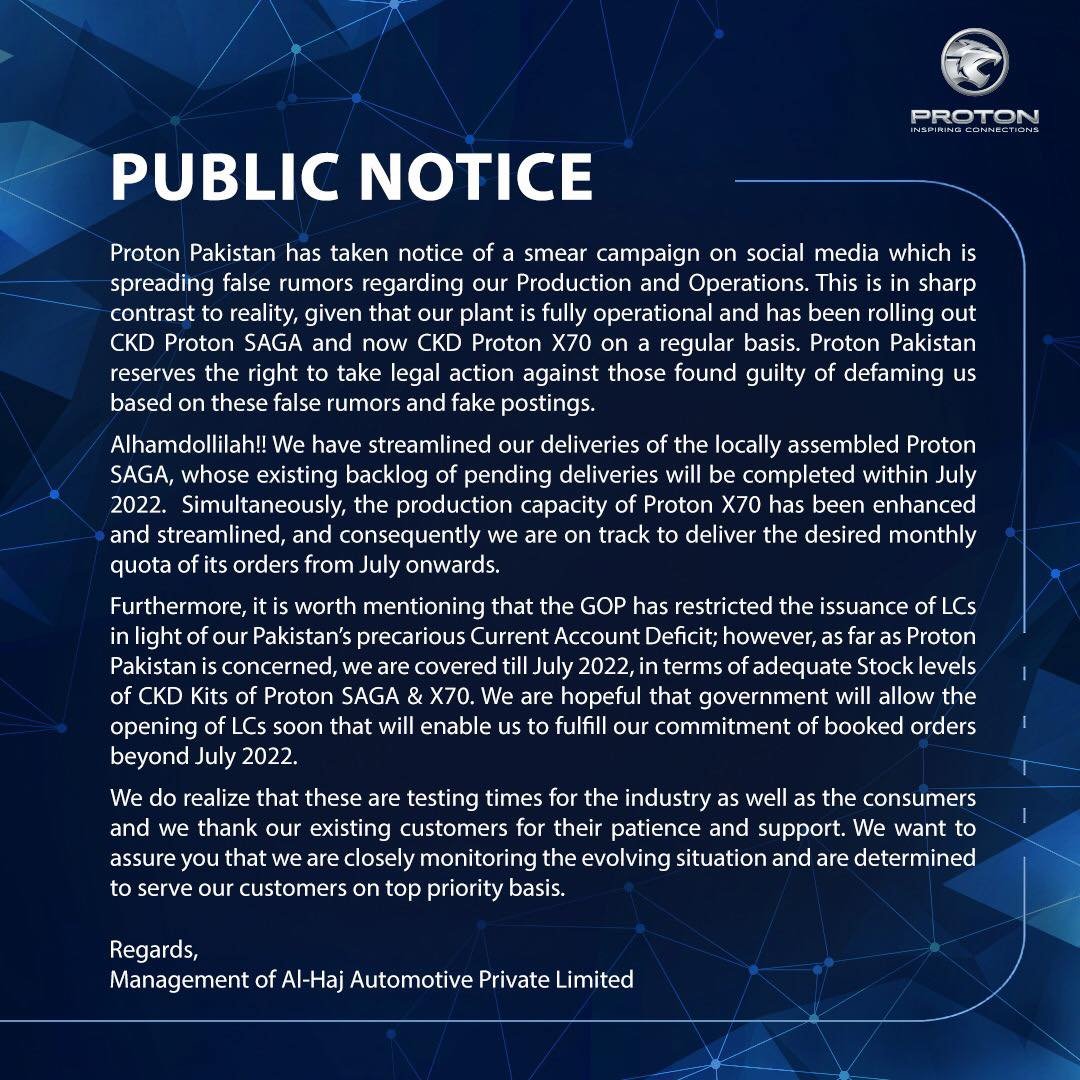 Consequently, we are on track to fulfill our monthly target of booked units of Proton X70 from July onwards. We urge our customers not to pay heed to any false and baseless rumors as we strive to honor the commitments of the fulfillment of booked units to our customers on top priority.
---
---
2022 Car Prices (11) 2022 CARS (13) 2022 News (24) 2022 Tech News (13) 2023 Cars Price List (11) apple (18) automobile (10) Automotive News (128) Automotive News Pakistan (20) Auto News (54) Auto Sector (13) car news (26) Car Prices (11) cars (48) cars 2021 (11) cars of pakistan (47) Cricket (11) electric cars (12) entertainment news (12) F1 (23) F1 News (11) Formula 1 (12) Hyundai (11) Imran Khan (18) Imran Khan News (19) MG Pakistan (12) new cars (34) news (280) news pakistan (16) News Update (13) pakistan automotive news (12) Pakistan Government (37) Pakistan News (70) PCB (23) proton (12) proton pakistan (14) PTI (21) Sports News (41) suv (10) suzuki (15) Suzuki Pakistan (10) Tech News (49) Toyota (11) Weintek (11) Weintek Pakistan (11)