Mercedes Debuts Its 2024 E-Class Estate
June 23, 2023 / By Zunair Tahir / Automotive News
---
Mercedes is aware that not all customers desire an SUV. It has not only added an estate version to the most recent C-Class, but it is also preserving the long-roof E-Class for at least another generation.
Even if the outlandish rumour that the three-pointed star will stop pulling wagons after 2030 is accurate, there will still be plenty of time to get away from the ubiquitous sport utility vehicle. Let's not forget that the CLA Shooting Brake is still available, although for a limited time.
The Sedan-Like Vehicle Has Three Displays, A Selfie Camera, And Yep, TikTok And Angry Birds
The largest of the three Mercedes waggons has an interior that is incredibly roomy and is even bigger than its predecessor. The code-named S214's wheelbase has been extended by 22 millimetres (0.86 inches) to 2961 millimetres (116.57 inches) for more legroom and by 28 millimetres (1.1 inches) to 1880 millimetres (74 inches) for more elbow space. Height has grown by 1 mm (0.04 in) to 1469 mm (57.83 in), while length has increased by 4 mm (0.15 in) to 4949 mm (194.84 in).
The 2024 Mercedes E-Class can hold 615 liters (21.7 cubic feet) with the back seats in place or 1,830 l (64.6 cubic feet) if you fold them. It is no longer available with an optional third row. Practicality suffers if you choose a plug-in hybrid because of the extra hardware; the volume drops to 460 l (16.2 cu ft) or 1,785 l (63 cu ft) after folding the 40:20:40-split rear seats. A typical installation electrically actuated tailboard allows access to the cargo space.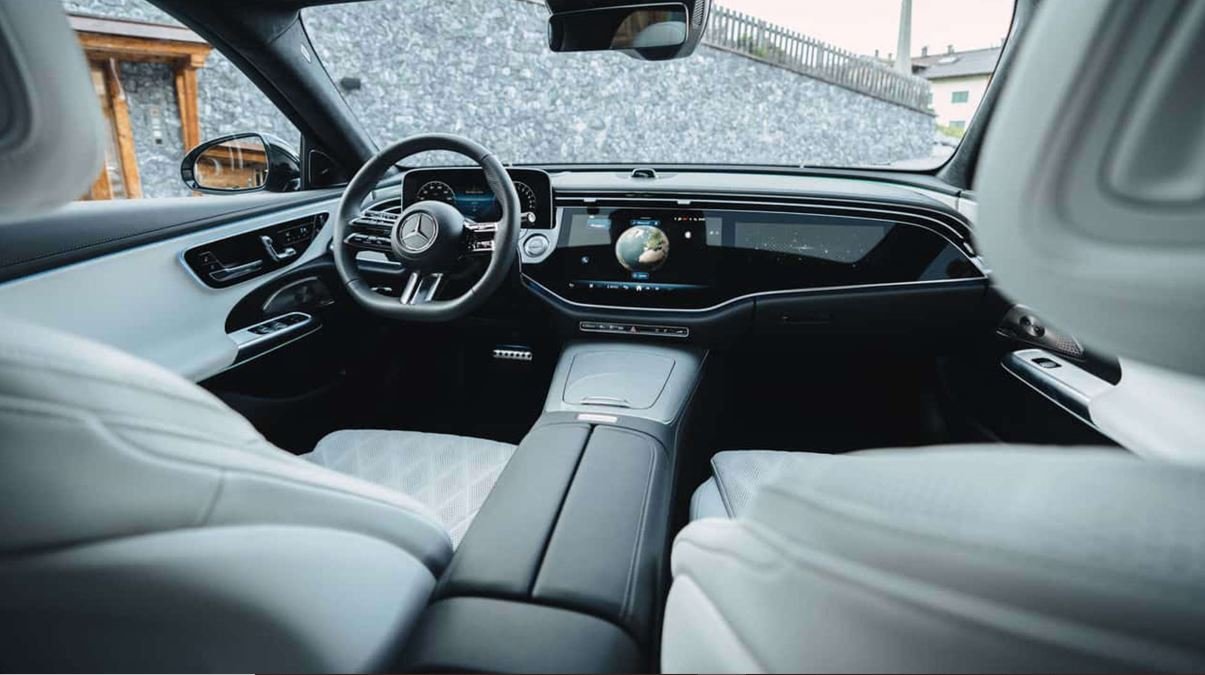 Regardless of sales figures, the new E-Class Estate is a gorgeous wagon with every incentive to compete with the GLE. It strongly resembles the W214 E-Class Sedan, which was unveiled in late April, as was predicted, and appears to be less divisive than the impending BMW 5 Series Touring.
The drag coefficient has decreased from 0.27 to 0.26, making the body more streamlined than previously. Although the standard model rolls on 17-inch wheels, you may order it with wheels up to 21 inches in diameter.
The E-Class Estate claims to be a stylish and comfortable family vehicle with all the amenities accessible from the sedan, and is offered with a standard rear air suspension or an optional two-axle Airmatic. A selfie camera, three displays, and TikTok integration are all available.
Also included are Angry Birds and Zoom for conferencing utilizing the dashboard-mounted internal video camera.
Mercedes will first offer the upscale wagon in Europe as the E200 and E220d, together with the E300e plug-in hybrid. A 2.0-liter turbocharged engine with 204 horsepower (150 kilowatts) and 320 Newton-meters (236 pound-feet) of torque is used in the gasoline-powered version.
The four-pot mill is a mild-hybrid model, which means it uses an electric motor to add an additional 23 horsepower (17 kW) and 205 Nm (151 lb-ft) of torque. This combination can reach a peak speed of 144 mph (231 km/h) and can accelerate from 0 to 62 mph (100 km/h) in 7.8 seconds.
The 2.0-liter engine of the E220d diesel employs the same 48V system and produces 197 horsepower (145 kW) and 440 Nm (325 lb-ft).
It will finish the sprint in 7.9 seconds, reaching a top speed of 143 mph (230 km/h). Mercedes promises that a six-cylinder diesel will come if you require more power. The nine-speed automatic gearbox, which has been upgraded for this application to improve packing and reduce weight, is used in all models.
---
---
2022 Car Prices (11) 2022 CARS (13) 2022 News (24) 2022 Tech News (13) 2023 Cars Price List (11) apple (18) automobile (10) Automotive News (125) Automotive News Pakistan (20) Auto News (51) Auto Sector (13) car news (26) Car Prices (11) cars (48) cars 2021 (11) cars of pakistan (47) Cricket (11) electric cars (12) entertainment news (12) F1 (23) F1 News (11) Formula 1 (12) Hyundai (11) Imran Khan (18) Imran Khan News (19) MG Pakistan (12) new cars (34) news (275) news pakistan (16) News Update (13) pakistan automotive news (12) Pakistan Government (36) Pakistan News (69) PCB (23) proton (12) proton pakistan (14) PTI (21) Sports News (41) suv (10) suzuki (15) Suzuki Pakistan (10) Tech News (49) Toyota (11) Weintek (11) Weintek Pakistan (11)