VW Crafter Is A Big Van With An ID, Digital Dash, And Buzz-Style Gear Lever
November 6, 2023 / By Zunair Tahir / Automotive News
---
Diesel engines provide its power, and all-wheel drive is an optional feature.
By the end of the previous year, more than 354,000 Volkswagen Crafters from the current generation had been sold, making it one of the most well-liked goods in its market.
The vehicle has proven its worth, whether it is used as a dependable panel van, an adaptable dropside, a robust chassis, an opulent Grand California camper van, or a platform for second-stage manufacturers.
Although it isn't available for purchase in the US, we felt it was significant enough to discuss the brand's commercial vehicle division's mid-cycle update.
You can know there are essentially no external changes if you have ever seen a Crafter. The major changes are within the interior, where the Crafter gets a brand-new infotainment system with either a 10.3- or 12.9-inch screen on the dashboard, as shown in spy photographs from September of this year. You may recognize the visuals since the ID. Buzz long wheelbase has the most recent modular infotainment matrix (MIB) as its foundation.
A new digital instrument cluster that is now standard equipment is another example of how things are becoming more computerized. The display includes a variety of menus and information displays, including media libraries, phone controls, navigation, and other features that the driver may select from. All of this is controlled via the new multipurpose steering wheel.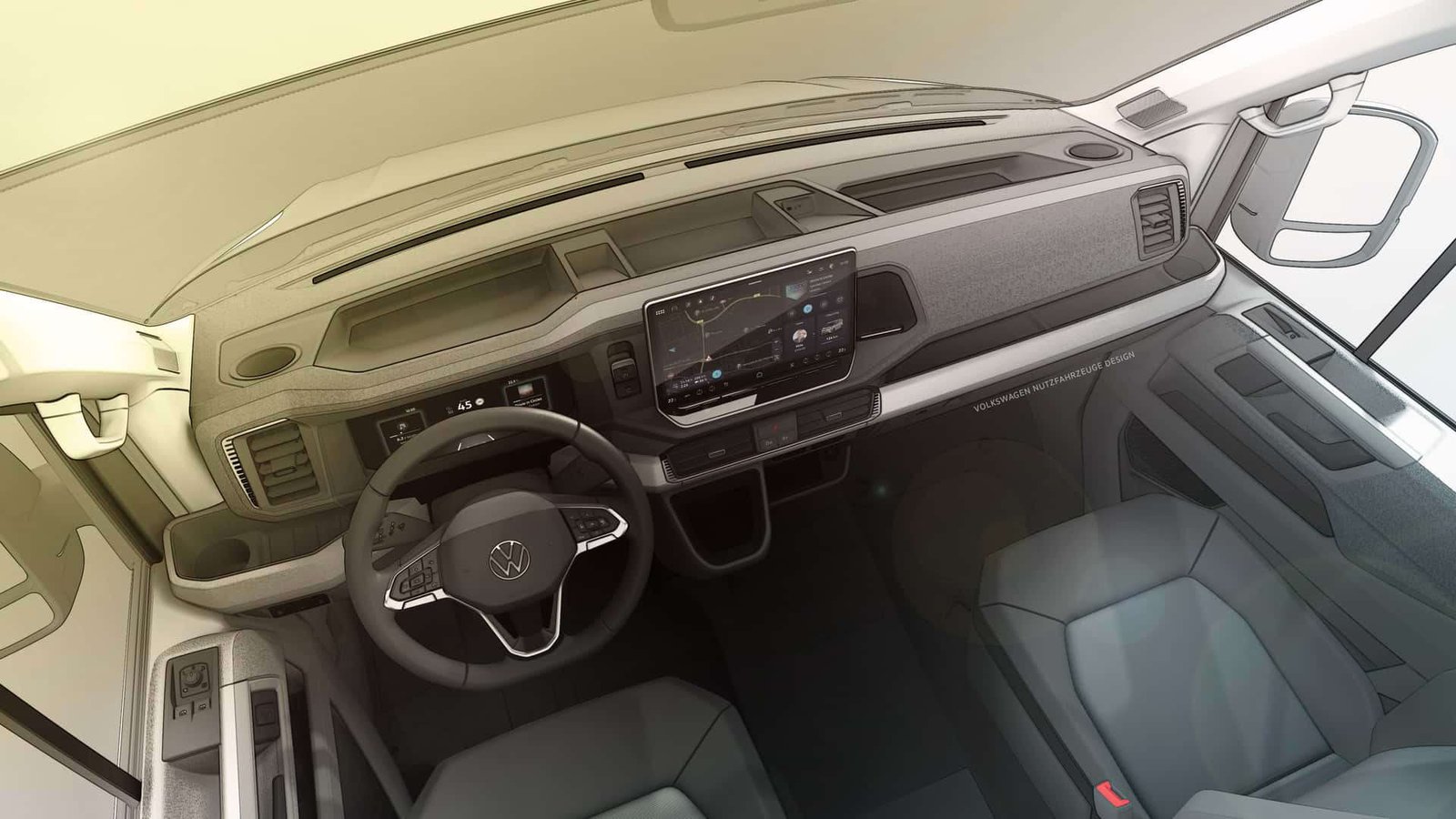 The conventional handbrake of the model before the facelift has been replaced with a new electric parking brake, which is another significant modification.
To free up more room in the central console, the gear lever is now situated on the steering wheel column, much like it was on the ID Buzz. However, manual-transmission vehicles continue to use the previous design. Another feature is a USB-C charging point in the top windshield trim, which permits the use of customized devices without interfering with the driver's field of view.
In order to meet a wide range of client demands, The Crafter continues to provide a multiplicity of body designs, including panel vans, dropsides, chassis, box bodies, and tippers.
The range comprises manual and automatic gearboxes mated to front-wheel, rear-wheel, and all-wheel drive choices. Four-cylinder turbocharged diesel engines producing 140, 163, and 177 horsepower provide the power.
In April of the following year, Volkswagen will start taking orders for the new Crafter in the European markets. Markets in South America, Australia, New Zealand, and South Africa will follow in the upcoming months.
---
---
2022 Car Prices (11) 2022 CARS (13) 2022 News (24) 2022 Tech News (13) 2023 Cars Price List (11) apple (17) Automotive News (146) Automotive News Pakistan (20) Auto News (66) Auto Sector (13) car news (26) Car Prices (11) cars (48) cars 2021 (11) cars of pakistan (47) Cricket (12) electric cars (12) entertainment news (12) F1 (24) F1 News (12) Formula 1 (12) Honda (11) Hyundai (12) Imran Khan (18) Imran Khan News (19) mg (10) MG Pakistan (13) new cars (35) news (303) news pakistan (16) News Update (19) pakistan automotive news (12) Pakistan Government (37) Pakistan News (70) PCB (23) proton (12) proton pakistan (14) PTI (21) Sports News (43) suzuki (16) Suzuki Pakistan (11) Tech News (52) Toyota (14) Weintek (11) Weintek Pakistan (11)