The Last Lamborghini Aventador Is A Tribute To The Distinctive Miura Roadster
October 14, 2022 / By Zunair Tahir / Automotive News
---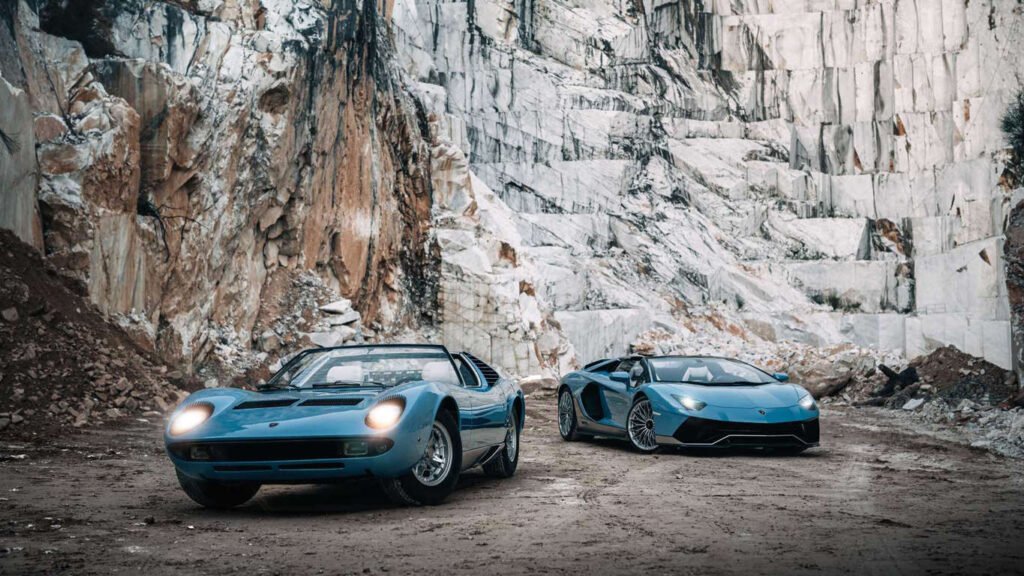 This Ultimae Roadster was modelled by Bertone's unique Miura P400 Roadster.
Earlier this year, when the Felicity Ace caught fire, 15 Aventador supercars drowned in the Atlantic. Lamborghini was forced to rebuild every single one of them because they were meant to be the last client vehicles for the company's flagship Sant'Agata Bolognese model.
Actually, during the catastrophic catastrophe, the Italian exotic carmaker lost roughly 85 vehicles, the most of which were Urus SUVs. The very final Aventador was unveiled in late September.
The Aventador's epilogue, an Ultimae Roadster created by the Ad Personam customisation division, was only seen on the assembly line at the Italian facility. The last of the species now has a comprehensive photo album online where it is shown adjacent to its source of inspiration.
---
GALLERY:a
---
The droptop V12 vehicle, painted in a custom shade of Azzuro Flake, is modelled after the jaw-droppingly gorgeous Miura Roadster.
At the Brussels Auto Show in April 1968, Bertone showed his one-of, which was never put into production. As the Aventador's swan song mirrors the livery of its predecessor with Grigio Liqueo and Nero Aldebaran accents for the lower half of the body, the spirit of the Miura P400 Roadster is alive and well in this design.
The inside follows the same theme, paying homage to the late 1960s prototype with Bianco Leda leather upholstery and Nero Aldebaran accents surrounding the headrests. The dashboard, which is covered in Nero Ade Alcantara and has Bianco Leda stitching, boldly displays a Miura logo that is also visible outside, more especially on the side rocker.
The unusual Miura Roadster was purchased by the International Lead and Zinc Research Organization, in case you're wondering what happened to it. All the replaceable parts were switched out with components composed of zinc or lead by the new owner. In addition, ILZRO provided the inside and outside of the automobile matching green paint jobs.
It was subsequently given the new moniker ZN 75 and utilized for promotional reasons while touring various design centres all over the world. It ultimately went through a couple ownership changes before being fully repaired and displayed at the Pebble Beach Concours d'Elegance in 2008, when it was back to its original specifications. In the Lamborghini class, it won second place.
---
---
2022 Car Prices (11) 2022 CARS (13) 2022 News (24) 2022 Tech News (13) 2023 Cars Price List (11) apple (17) Automotive News (145) Automotive News Pakistan (20) Auto News (65) Auto Sector (13) car news (26) Car Prices (11) cars (48) cars 2021 (11) cars of pakistan (47) Cricket (12) electric cars (12) entertainment news (12) F1 (24) F1 News (12) Formula 1 (12) Honda (11) Hyundai (12) Imran Khan (18) Imran Khan News (19) mg (10) MG Pakistan (13) new cars (35) news (302) news pakistan (16) News Update (19) pakistan automotive news (12) Pakistan Government (37) Pakistan News (70) PCB (23) proton (12) proton pakistan (14) PTI (21) Sports News (43) suzuki (16) Suzuki Pakistan (11) Tech News (52) Toyota (13) Weintek (11) Weintek Pakistan (11)